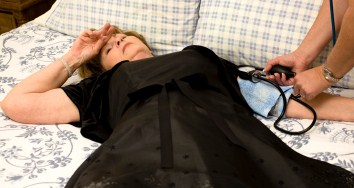 With any emergency situation we will face, the most important three things to remember are to stay informed, be prepared, and know who to call or where to find help. While no one can be expected to know or anticipate everything life throws at us, we can build plans and have the knowledge to handle it the best we can.
What you know before an emergency occurs will save time later on. Therefore, being informed and knowledgeable is critical to handling household emergencies.
An emergency plan is where you can layout all the information you will potentially need for everything from an evacuation during a natural disaster to managing during power outages to injury and sudden illness.
Begin with a basic drawing of your home's layout with plenty of space to note important information. Note where the utility shutoffs are located for gas, electric and water. Mark where fire extinguishers, first aid kits and emergency supplies are located. This is something you'll be sharing with every member of your family, so keep it simple and clear.
For emergency shutoffs, in most cases you will need a sturdy wrench. Invest in one of the proper size (check with local utility companies for exact procedures with regards to your system. Write out the steps and keep in an easily accessible place) and secure near each valve if possible.
A list of important numbers is vital. Most municipalities have 911 for all potential emergencies, but it's a good idea to have alternate numbers for fire and police as well as local hospitals, family doctors, and the pharmacy for non-emergency questions and concerns. Poison control and emergency contacts (neighbors and family members), along with cell phones and work numbers round out the information. Slip the list into a plastic protector or laminate; there should be a copy kept with your emergency supplies as well as at each phone in the house.
Preparedness for any emergency starts with relevant supplies. Every household should be equipped with supplies - food, water, sanitation, clothing, medicine and bedding - for at least three days per person. Store everything in a waterproof container such as a tightly lidded garbage can. The Red Cross and FEMA offer information on exactly what is recommended in these kits; you can also check your phone book for an emergency management office in your area.
The First Aid supplies are also a big part of the kit and household preparedness in general. One kit isn't enough; ideally, there should be one kept in each household car and every floor of the house. Every member of the household should know where each kit is located.
A basic kit includes: adhesive bandages in various sizes, a sterile dressing, a roller gauze bandage, sterile gauze pads, germicidal hand wipes or waterless alcohol-based hand sanitizer, antiseptic wipes, a of pair large medical grade non-latex gloves, adhesive tape, antibacterial ointment, a cold pack, scissors, tweezers, and a CPR breathing barrier, such as a face shield. Pamphlets or a book on basic first aid should be kept with each kit, including the one in the emergency supplies.
Knowing simple first aid and emergency procedures are vital for everyone in the household - from the smallest member of the household knowing how to call 911 to learning basic CPR (see Children and 911 for more). One cannot be prepared for everything life throws at us, but taking the time beforehand to be informed will speed your response time and confidence in handling an emergency.