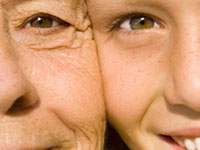 So you've seen Dr. Roizen all over TV talking about his Real Age test and wonder if it's just another health fad. With all of the fad diets on the market, you have a right to be concerned. However, this test seems like the real deal. It was designed by a group of experts including medical doctors, epidemiologists, and medical writers. Everyone on board the Real Age bandwagon is a recognized professional in their field and spent a good deal of time researching the boundaries of the Real Age test. In fact, it's safe to say they know their stuff!
Dr. Roizen was a graduate of the University of California, San Francisco, School of Medicine. He was a past chairman of a Food and Drug Administration advisory committee and a former editor of six medical journals. On top of that, he has published more than 155 peer-reviewed (meaning that other experts in his field reviewed and approved of his work) scientific papers, 100 textbook chapters, 30 editorials, and four medical books, including a best-seller. Given his vast array of knowledge in the medical field, he is highly qualified to educate people on their health and ways they can improve it. His philosophy on achieving a healthier, younger Real Age is not much different than what a good nutritionist will tell you. Eat right, exercise regularly, and you'll be a happier, healthier individual.
If you choose to take Dr. Roizen's Real Age test, you may be surprised by the results. You must answer a short series of questions about your height, weight, physical activity level, and food choices. The test also includes some questions about any physical or medical mental conditions you may have. After answering the questions, you can see what your Real Age is in comparison to your biological age.
Dr. Roizen was recently on the Oprah Winfrey show and gave the audience the keys to looking younger and staying healthier. What were the keys, you ask? Well, Roizen says the secret is found in the foods that should be eaten everyday, and other foods that should be eaten several times a week. Amongst the everyday foods are eight glasses of water, one glass of milk or orange juice, a handful of nuts, five handfuls of fruits and vegetables, whole grains and whole grain cereals, and a glass of red wine. Incorporating these foods into an everyday routine will help with things like lowering cholesterol, increasing circulation, lowering the risk of heart disease, and increasing a general sense of well-being.
Two of the foods that should be eaten several times a week were tomato sauce and fish. Roizen feels so strongly about the tomato sauce that he thinks a country should be named after the tomato. While that isn't likely to become a reality, the health benefits from the tomato are. Roizen says that it would take 165 raw tomatoes to equal ten tablespoons of tomato sauce. The benefits? It helps decrease the risk for cancer, arterial aging, heart disease, stroke, memory loss, impotence, and wrinkling of the skin. And fish - particularly tilapia, salmon, and mahi-mahi which have none of the toxic chemicals or PCB's and a very low content of mercury - should be eaten three times a week.
If you're like most Americans, you may have reached a point where you know you have to do something about your health. In a society that is largely overweight thanks to super sizing meals and large serving portions, finding the tools to help people successfully lose weight and keep it off is tough. Fad after fad has failed because they were all about losing weight fast. The Real Age test does not proclaim to be a fast weight loss fad. In fact, it's not a fad because it doesn't suggest a specific "diet." It is tailored to individuals and offers suggestions on making healthier choices that suit their lifestyles. By eating appropriate foods and portions and by increasing body movement, people can lose weight. Having the will to do it is the biggest challenge that many will face.
As the old saying goes, age is nothing more than a number; it's how you feel inside that counts. Now prove the worth behind that saying and the worth of the Real Age Test itself. Once you discover your Real Age, then you can start making the changes that will lead to a younger, healthier you!