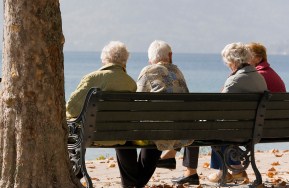 A lot of people tend to forget that cars were not always accessible to everyone. This includes senior citizens who may have grown up with one or no cars in their household. The important thing to remember is that there was life before driving and there can be life after driving, too. Seniors just need to learn how to make that life work for them.
Giving up driving can be frightening for seniors; they fear isolation and loss of both general activities and mobility to see friends and family. Fortunately there are ways to combat the fears and the actual consequences through community involvement and outreach. Studies have shown that seniors who have regular social contact – with or without a car - enjoy better physical, emotional, and mental health.
Many cities and towns have senior citizen community centers and organizations which acknowledge and respond to the very real problems surrounding seniors who no longer drive. Taxi vouchers, dial-a-ride, and scheduled bus pickups are just some of the programs available. Scheduling grocery shopping and trips to the mall through the senior center means possible contact with people to chat with on the ride (not to mention assistance with bags and packages).
There are also events and classes specifically for seniors given by churches, synagogues, community centers, and local municipalities. Check the phone book and online for everything in the area and contact each of them for more information. Using every available resource is key to maintaining independence and a sense of connection to others.
The phone and computer should not be overlooked as social tools. Some volunteer programs have weekly phone calls to seniors - for chatting, checking up, and friendly conversation. Conversely, a senior who wishes to remain connected and active might volunteer their time to an organization, making phone calls from their home to check up on others. Sometimes reaching out to someone is even more gratifying than having them reach out to you.
Since just about every demographic and interest is represented somewhere on the Internet by a community or website, seniors can locate others who have similar hobbies or backgrounds, religious or political beliefs, or general interests. Forums and groups can be excellent ways to make new friends, while e-mail keeps seniors in touch with old friends and far-flung family members.
No one likes being restricted when they're used to moving about; the trick is to find other ways to reach out into the world to keep those all-important human connections alive and vital. So as long as seniors know that there is a world of options open to them, there is no reason for them to become any less connected to the world than they were before.