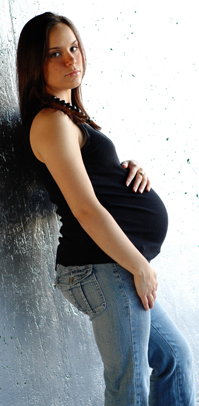 Statistics can be frightening things. Especially when they embrace a population wider than one's own economic level, culture and geography. Some statistics not only open our eyes, they can sometimes (metaphorically, of course) rip them right out of our head. Here's one that should get your attention: four out of every ten girls will become pregnant before the age of 20. Read that again. Four out of ten. Look at the players on a softball field and imagine four of them waddling around in their third trimester with a copy of Catcher In The Rye under their arm. Not pretty. But it gets worse. Because about 80% of those are unintended pregnancies, nearly all from unwed mothers.
Of course, to get to these bottom-line numbers you have to consider that the data embraces cultures other than your own. In environments rife with drug use, crime and parental issues, the instance of teen pregnancy is higher than, say, the suburban development with a German car and an SUV in every driveway. In fact, the unwed pregnancy rate in low income neighborhoods is nearly three times greater than that of suburban sprawl. About 60% of all teen pregnancies occur in poverty situations. But even in higher income communities, teenage girls are becoming pregnant at an alarming rate – even two out of ten is alarming – which means everyone needs to take a look at the issue and take stock. There's a price to be paid, and not just for the mothers and families who find themselves in this situation. Because of the economic bias of the statistics, most unwed mothers receive less than optimal prenatal care. Their children are more likely to be born prematurely, often with low birth weights and developmental issues. And, the mothers of these children have a dramatically reduced likelihood of continuing their education, which brings broader consequences well beyond the maternity ward and Toys 'R Us.
There are generally only three routes toward addressing this problem, each of them an inexact science that, in the end, places the choice back in the laps of the girls themselves. The first is to practice abstinence, a strategy shown to be ineffective over the years for reasons that require no further explanation. Kids will be kids and hormones are not to be denied. The second is to ensure that these girls receive comprehensive sex education on issues of pregnancy, contraception and the consequences of a mistake. The goal here is a delay in the onset of sexual activity, and an increase in the competent use of contraception when it occurs, and to some extent this has proven to be effective. The more effective route, however, has its roots in adult involvement in these girls' lives. It is the establishment of youth development programs that integrate sex education within a broader range of activities and programs that involve adult mentoring and supervision. By showing these girls that adults truly care, by providing role models and mentors, a sense of responsibility and accountability stands a better chance of penetrating the judgment of young girls exposed to inevitable temptations. And let us not forget the boys in this social equation, who also benefit from these programs.
There are no simplistic solutions, no panacea programs to ensure that our daughters understand the consequences of irresponsible sexual activity, especially in their teen years. Parents should investigate resources in their community, and most of all, get involved. If not with the programs themselves, then with the lives of their children. Because the primary the problem owes its genesis to leaving them alone with their decisions, without modeling and mentoring. And in that instance the decision isn't borne by the teenage girl herself, it belongs her to parents, teachers and any adult who understands what is at stake, both for these young women and for the community.