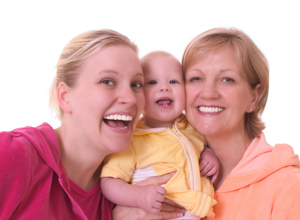 We've always loved to name our generations. We have baby boomers (post war pregnancies, the cold war and Nixon), who are the offspring of the Sinatra generation (cigarettes and booze), and who have given birth to Generation X (entitlement and the digital age) and are now grandparents to Generation Y (who have never once seen a record turntable or a black and white television, and who think David Hasselhoff is really, really old). The passage of time has merged these demographic lineups under one roof, with mom and dad in the master suite, teenagers in the Jack and Jill shared-bath bedrooms down the hall, and grandma stashed away in a converted bedroom that used to be home to a self-powered driving lawn mower. It's called the "sandwich generation" – parents managing a house with both children and their own parents in residence, and it has nothing to do with the frequency of visits to Subway. While the sit-coms make it look fun if not particularly easy, those who navigate these domestic waters understand the pressures of being sandwiched between caring for one's parents and completing the privilege of rearing one's children.
It's a stressful time, not quite desperate but nonetheless calling for near-desperate measures and heaping mounds of patience and personal growth. Baby boomers in the their mid-50s have more parents living with them than ever before, thanks to the financial pressures of the day and the antiquated, generation-centric belief that savings bonds were the best investment in history. Well, their money is gone, their energy is waning and there you are with your spare bedroom and your sense of family, welcoming them into your home with open arms. Good for you. But make sure you know what you're getting into here, because taking things for granted could drag all of you down to a place none of you intended, and there is no back door available. Online resources for this topic abound (a search engine inquiry for "sandwich generation" yields over 5 million hits), and most boil things down to a few simple guidelines to ensure your success and your sanity.
First, keep in mind that your objective should not be to create a sense of co-dependence on you, but rather, to preserve and promote a sense of independence for parents who live with you. It's easy to exert too much control in these situations – after all – it is your house – but step back and try to remember that you spent 18 or more years under their wing, and they are not your children, they are your guests. Try to make decisions with your parents, not for them. Give them their space and respect their rights. Even if this is not reciprocated in the way you would prefer. Nobody ever said family was fair.
Don't quit your job. You need your own independence, and there are ways around the logistics and cost of maintaining a house full of multi-generational family. Besides, you'll need the money with more mouths to feed and the potential for medical issues and emergencies. Be creative in finding the help you need, including recruiting your children to the team, though be sure you don't compromise their own teen years to the extent they resent you for it.
And finally, get a lawyer and make sure all the requisite paperwork is on file. A will is basic, and a durable power of attorney will ensure your legal right to make decisions if the need arises. Make sure bank accounts are ready for transition – be sure to understand the inheritance implications of joint tenancy – and a living will can ensure that any life-extension issues will be handled to the satisfaction of your parents.
When approached with love and some careful planning, these years can be precious for all involved. Stress is the ante-in and patience is the currency of success, but both were there when they were raising you, and now it's your turn to be unconditional with your love, sandwiches and all.