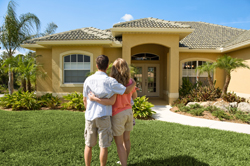 Buying a home is one of the largest steps any individual or couple can take in their financial lives. Who didn't dream of owning a house when the opportunity arose? With the right planning, you could can finally realize that dream and get to work on finding that home.
Before you think about moving, consider this: Are you committed to buying a home and living there for at least a few years? The reason you must ask yourself this question is that the market is unreliable and you could potentially end up losing money if you sell too quickly. For those whol ove a change of environment, renting is a much better option.
Once committed, it is time to get started right away. First you need to go over your credit report. Most home buying comes with mortgaging, which you will not be able to do if your credit report is bad. People make financial mistakes which is why you must thoroughly check your personal credit report for any corrections that need to be made. This is the first step in obtaining the best possible mortage payment plan for yourself.
Though you might be able to receive a mortgage, you need to look at houses that you can actually afford, not ones that will lead you into financial troubles. Take into consideration all your bills, debt, weekly expenses, and your standard income before researching homes. Most real estate agents will say you can buy a house that goes for around 2 ½ times your annual salary, or one where the monthly paymenta equal one third of your net pay. Keeping this in mind can help you to find the best affordable home for your personal finances.
You must consider more than pricing when purchasing a home. You may want to consider school districts, transportation proximity, and other conveniences. Even if you do not take public transportation or do not have any children, one day you might decide to sell and those factors will effect the profit that you make on the sale of the house.
Buying a home can be a tricky process which is why hiring a professional realtor to help you is your best bet. The professional will get a percentage after closing costs, but they will be well worth that money. They might be able to give you some tips on the correct type of pricing, bidding, home inspectors, and which bank might be of most use to you.
Mortgaging will be one of the last steps in your process, but it is important. There are a few mortgage options that you might receive, each with their own interest rates and point systems. It is commonly known that the lower the interest rate, the more you save in the future. Getting pre-approved by a lender can make the whole process a lot less complicated and less stressful before you find a house you want to purchase.
Buying a new home should be an exciting and fun experience for anybody. Be sure to make the right decisions from the beginning and that perfect house could soon be yours!