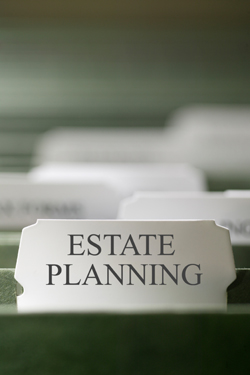 It is very important to have your estate planned prior to your death so your family is protected and your financial obligations are all met. An estate plan has several components, and includes a will, a power of attorney (POA), a medical power of attorney, and possibly a trust. You should review everything with an estate attorney to have accurate planning.
To establish the dispersing of your assets at the time of your death (an estate plan), you will need to decide to whom you wish to leave each of your assets. You will also need to decide who will have the power to make decisions pertaining to your health and well-being in the event that you become incapacitated, as well as whom you wish to handle your financial affairs. You will benefit from having clear documents that state the disbursement of your assets, as opposed to being secured by the government.
Beginning January 1, 2006, Congress changed the laws so that until the end of 2008, heirs can leave to their beneficiaries a tax-free sum of up to two million dollars. In 2009, heirs will be able to leave up to three and a half million tax-free dollars to their beneficiaries. By 2010, the tax on death benefits left to loved ones is supposed to be repealed.
There are also estate planning steps that you can take to reduce the burden of estate taxes. For tax purposes your estate includes the following: homes, cars, retirement accounts, taxable investment accounts, collectibles, and life insurance policies. You are allowed to give away, tax-free up to $12,000 per year to an individual (if you are married, $24,000). You are also allowed to pay another person's educational or medical bills in unlimited amounts, all tax-free if paid to the billing source. Donations to charitable organizations are also tax-free, if stated in your will which charities and the amounts.

It is wise to sit down with your immediate family and talk about your finances, estate planning, will, and final plans for burial and memorial services. This is normally a subject that people try to avoid due to the discomfort of contemplating death, but inevitably everyone must die. Talking about your estate planning and sharing your plans with your family will actually relieve a lot of the burden from them and equip them with knowledge that they will be able to use during a very difficult time.

Contact the HCCUA Financial Advisors for information on estate planning.