Home >
Health And Wellness
---
Good Health Is Priceless – But Are Health Savings Accounts?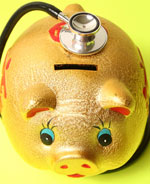 Good health comes at a price – and it's generally not a cheap one. Many insurance companies charge exorbitant amounts for medical coverage, and those prices do not even include additional fees that come in the form of co-pays, emergency care, and prescription prices. Though benefits vary by company, the general consensus is that insurance is expensive. Fortunately, there are new medical insurance products called mini-med indeminity policies aimed at assisting those who simply cannot afford the current costs of major medical health insurance policies. Also, with the introduction of Health Savings Accounts (HSA's), good health care coverage can also come with some savings advantages for those who may be able to manage a high deductible plan.
Health Savings Accounts (HSA's) were originally created when President Bush signed a revised Medicare bill in 2003. HSA's are meant to help people save money for their future health by deferring necessary funds for medical and retiree expenses. HSA's are tax-free, so these savings for the future do not effect anybody's present savings.

To have an HSA, a person must:
Be covered by a High Deductible Health Plan (HDHP)
Have no other health insurance
Not have Medicare
Not be claimed as someone else's dependent
Be an adult
Although HSA participants cannot be covered by any other insurance policies, they can receive additional coverage if they have:
Insurance for specific diseases or illnesses
Insurance that stems from an accident
Disability benefits
Dental care benefits
Eye care benefits
You need to be covered by a High Deductible Health Plan to qualify for an HSA. First, by paying a higher deductible, people will likely treat themselves better and try to prevent any medical problems that could stem from avoidable problems like recklessness, obesity, smoking, alcoholism, and drug use. Secondly, people will not have to pay a steady rate when they feel healthy, thus decreasing the overall cost of health coverage.

It is only fair to warn that HSA coverage may not be for everyone. Since the deductible is much higher than that of a standard insurance policy, HSA's may not be appropriate for anyone who suffers from chronic health conditions or poor health in general. If you have pre-existing medical concerns, it may be best for you to weigh all of your insurance options before you decide to invest in a Health Savings Account. However, if you are generally healthy and you want to receive medical protection for unforeseen illnesses or accidents, an HSA could be for you.

Before you make a choice, visit the U. S. Treasury Department's website to see exact fees, coverage, and advantages/disadvantages of choosing a Health Savings Account over a different type of insurance. Your body is your most valuable asset, so it always pays to do your homework before you commit yourself to any kind of insurance plan.
[Go Back]