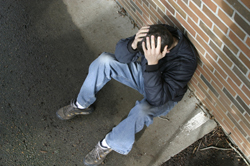 Everyone has had a really bad experience in his or her life at some point. Some people seem to get past this easily and with little effort, while a bad experience may bring someone else's life to a complete standstill. Bad things do happen; it is just a part of life. Accepting this truth is your first step to moving past a bad experience.
Moving past a bad experience is even more difficult if it was something that was completely unexpected, such as a death of a loved one in an accident, loss of a job, or even a breakup. When something like this is literally dropped in your lap, it may make you wonder about life in many different ways. The very foundation of your life may be shaken or totally stripped away, and you feel vulnerable and insecure. You may even question the basic good of humanity and life.
When a bad experience such as this happens you may experience sleeping problems, nightmares, distressing thoughts, social isolation, or severe anxiety. Even if you are aware that the bad experience may happen, such as when someone you know has a terminal illness, the experience is still extremely painful, and can cause depression and anxiety.
The most important thing to remember when you are trying to move past your bad experience is that, healing is a process and it will happen in its own time. The way in which people overcome a bad experience is different for everyone. To move past your bad experience, you should let yourself feel those feelings that come naturally, no matter if those feelings be that of grief, shock, anger, or whatever emotion happens to take hold of you. To move past a bad experience you must allow your emotions to adjust, and the process of letting yourself feel those emotions is part of that.
You won't wake up one day and suddenly be over it, moving past a bad experience is a process that happens in degrees. It is true that after the initial shock and grief is experienced, each day you will find it a little easier to cope with, but it won't happen all at once. Know that there will be things that trigger feelings about your experience, such as holidays or other things that may bring on memories. To deal with this when it happens, go ahead and feel the emotion, and possibly even seek out a friend to talk with. Sometimes this helps to get over a bad experience.
Some things that you can do to help you move past your bad experience would be to seek the help of a support group, engage in social activities - even if you have to force yourself at first. You may also want to occupy your time with exercise, reading and music. Seek spiritual consultation, or if you are finding it especially difficult to move past your experience, you may want to begin counseling.
All this can help you move past a bad experience, but the most important thing to keep in mind is that what you are feeling is natural, so let yourself feel those emotions and know that it will get better. Each and everyday you will begin to feel better.